Dialogue
Edit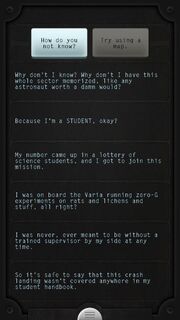 Why don't I know? Why don't I have this whole sector memorized, like any astronaut worth a damn would?

Because I'm a STUDENT, okay?

My number came up in a lottery of science students, and I got to join this mission.

I was on board the Varia running zero-G experiments on rats and lichens and stuff, all right?

I was never, ever meant to be without a trained supervisor by my side at any time.

So it's safe to say that this crash landing wasn't covered anywhere in my student handbook.

Previous Options
Edit
Community content is available under
CC-BY-SA
unless otherwise noted.