Description
Edit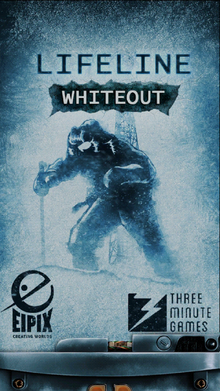 Lifeline: Whiteout is the fourth game in the Lifeline series created by 3 Minute Games.
Alone in a frozen wasteland with no memory of how he got there, a lost adventurer's only hope is his last line of communication – to YOU! Guide him to safety and help him find his identity in this gripping story of survival. Your choices shape the story as you play! Decisions can have a profound effect. Finish the game and then play again to discover a whole new story when you make different choices.
3 Minute Games has partnered with Eipix Entertainment for the next installment of the critically-acclaimed Lifeline series. Lifeline: Whiteout introduces a brand new character, V. Adams! Play on the go with real-time notifications sent to your device or check in with V. Adams throughout your day – waiting for the bus, eating lunch, before bed!
Walkthrough
Edit
Whiteout related pages will have (W) at the front of titles to indicate they are about Whiteout.
Characters
Edit
V. Adams - Main character of the story. Woke up in a frozen lake with no recollection of the past.
Blue - A friendly dog that V. Adams finds on his quest. A Siberian Husky.
IV. Adams - SPOILERS! A synthetic human identical to V. Adams, appearance-wise. Somewhat mentally unstable, he essentially worships Sibellius. He is much more aware of the nature of the existence of both he and his fellow Adams'.
I. Adams - SPOILERS! A synthetic human identical to V. Adams, appearance-wise. Unable to speak after removing his own teeth with a pair of pliers.
Dr. Sibellius - Creator of the Adams series of robots, including V. Adams.
Community content is available under
CC-BY-SA
unless otherwise noted.