Description
[
]
Lifeline is a series of games developed by 3 Minute Games. The Lifeline games are a series of interactive text adventures with varied themes, including but not limited to Sci-Fi, survival, fantasy, adventure, mystery, and detective simulation. The series currently has 8 games, the most recent being Lifeline: Whiteout 2. As of May 2021, Lifeline games has announced that a new game will be released sometime this year. It will very likely continue Taylor's story following Lifeline: Halfway to Infinity.
Gameplay
[
]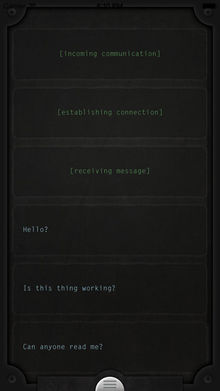 The games usually put the you, who is also considered the player (or perhaps a more adequate name could be the stranger), into a supportive character role to help the main character make decisions. While the player usually controls the flow of the story, the main characters will sometimes refuse to listen to the player's advice and go off on their own. The player will be communicating with the characters with some communicator, with Lifeline 2: Bloodline relying on magic witchcraft and Lifeline: Crisis Line relying on a phone app called HelpText.
Usually, the main character is in trouble, and he/she needs your help to get out of it. While most games have one "True" ending, many choices will lead to the main character dying. After you find one of the endings, the game will unlock the Rewind and Fast Mode options. Rewind allows the player to rewind to a player-made choice, rewinding the whole game up to that point. Fast Mode allows the player to skip the waiting times between messages.
The game features a real-time waiting system between messages. The main character will write messages and complete activities at a human pace (walking, driving, sleeping, etc.). The main character will close communications until something happens during the task or until they finish the task. The waiting time on tasks can be from under a minute to over 8 hours.
Games
[
]
The Lifeline series currently has 8 official games:
Discontinued Lifeline games include Lifeline Library and Lifeline Universe.
Music and Art
[
]
A link to most, if not all of the Lifeline Series music can be found here.
A plethora of Lifeline fanart can be found here and here.
The Lifeline Universe
[
]
The first story and its two sequels are set in space, more specifically on an alien moon and onboard space ships. Others occur across our planet, such as by an unknown tundra region, across various parts of the Pacific Northwest (in Oregon and Washington, i.e., New Tenacity), Austin (Texas), La Rumorosa (Mexico), and includes secret organizations, some of which feature alien-based parasites and magical properties.
Important features throughout the series are the Green, ALT, the Permanent Working Group, the Pearson Corporation, magic, and tunguskite. Reoccurring narrators of the game so far involve Taylor and V. Adams, but the series has indicated that Arika, Alex, and Wynn will later appear as well. Other reoccurring characters involve Regina Virdi, Blue, Captain Aya, Mari Lee, and Melanie (Mel) Choir.